Boasting an impressive range of features, Ethel offers family and carers peace of mind and assurance their loved one is OK. Unlike conventional tablets, it has everything the older person needs and nothing more. Simply select the features you need and manage them all remotely. Now your loved one is supported and has the perfect companion to aid independent living.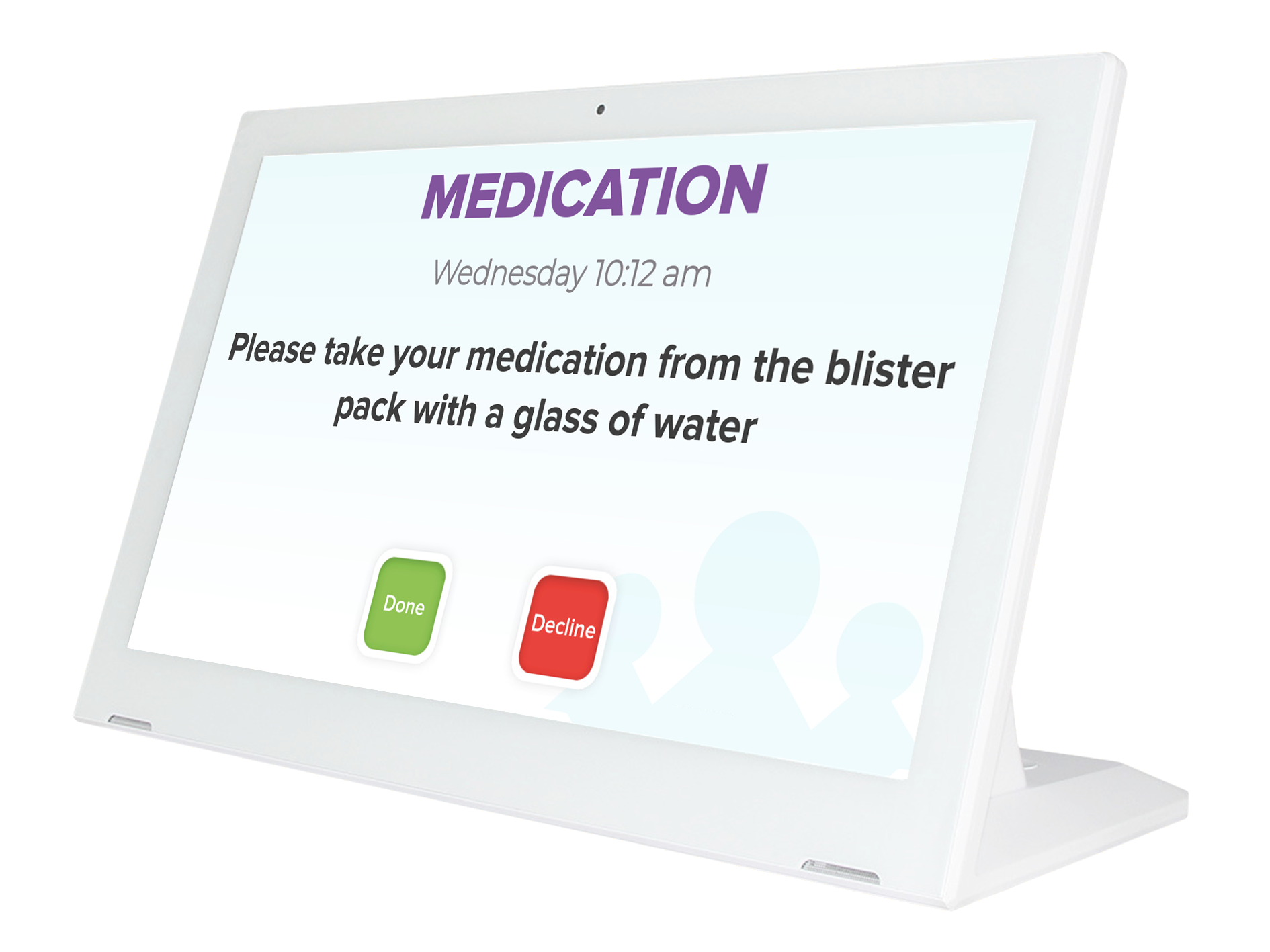 Always On

Large Buttons

15-18 Inch Screens

No Sign-in or Passwords
*Requires WiFi internet connection in the home.

Speak face-to-face with your loved one or service user at any time from any computer, smartphone or tablet. Using the large buttons on Ethel, your loved one can make, answer and end video calls without any fuss. It is private, completely secure and very easy to use.

Regular medication is of vital importance to the health and wellbeing of your loved one or service user. Ethel can automate medication reminders. If a medication reminder is missed, alerts are automatically sent to family and carers.

VITAL SIGNS MONITORING

Vital signs monitoring is a way to proactively care for your patient whilst they are at home. A vital signs reminder will appear on Ethel and using trusted diagnostic devices, a patient or carer can input their vital signs using the large on-screen prompts. If vital signs go outside of specific parameters, email alerts can get sent to specific staff or carers. Vital signs can be accessed by staff through the secure dashboard. We can also supply Bluetooth monitoring devices.

CHECK-IN
Using 'Check-In', your loved one or service user can let family and carers know everything is OK at key times of the day i.e., morning and evening. If the check-in is missed, Ethel will send automatic alerts to family and carers.

With one touch, loved ones or a service user can request someone gives them a call. This allows those who may be feeling isolated to make contact with family members and request calls from carers or health care professionals.

Ethel can automatically send email alerts to family and carers if anything seems irregular such as missed medications and check-ins. These alerts are tailored to each individual and family members and carers can choose who receives each alert.

Messages will appear instantly on Ethel in large easy-to-read text. Using the large on-screen keyboard and buttons, your loved one or service user can reply or write new messages at any time. Family and carers can send instant messages to Ethel from a computer, tablet or smartphone.

MEDIA ALBUMS

Share precious memories instantly. Photos and videos appear large on screen and are stored in an album to enjoy at any time. When idle, Ethel can display photos in a slideshow.

Use Ethel to browse the internet, family and carers can upload specific websites which may be of interest to the individual such as local news, games and hobbies.

EVENTS
Use Ethel to set up automated reminders to your loved ones or service user about important calendar events such as appointments, visits and family events. Calendar events can also have a website link attached, for example, 'would you like to play a game' with a website link to tic-tac-toe or 'would you like to make a turkey wrap' with a website link to a recipe.

Ethel offers one touch access to exercise videos specifically to help your loved one with mobility and general wellbeing. Exercises can also be scheduled, at a specific time each day, Ethel can remind your loved one or service user to do their exercise. This helps with remote physiotherapy.

If your loved one or service user cannot be a part of events or special occasions, such as a birthday party or a church service, Ethel can send a link to a live stream event. Ethel can send live video or audio streaming of church services, meetings and special occasions.

Q&A SURVEY
Family and carers can schedule and get real-time feedback to questions or short surveys. With one touch, your loved one or service user can provide simple answers to your questions. For example, 'How are you feeling today?' or 'What would you like for lunch today?'.

NEWS2 / BRADEN
Monitor your loved one's health with the National Early Warning System (NEWS2) and Braden built into Ethel. Allow early assessment to reduce the risk of deterioration.

EMAR
Ethel allows healthcare providers to digitally record and track medication administration with EMAR. With its user-friendly interface, EMAR ensures patient safety and reduces the risk of errors caused by illegible handwriting or incorrect dosages.

SENSORS
Say goodbye to worry and hello to peace of mind with EthelSense. Our smart and discreet home sensors that provide real-time updates and alerts to help you stay connected and informed. EthelSense will provide a sensor kit containing a range of motion, power and contact sensors. Simply place around the house and gain valuable insights into your loved ones routine.

NOTES
Ethel Digital Care Notes, the latest feature on the Ethel platform that makes it easy to document care activities in real time. This powerful function, which can be done on a carer's smartphone, tablet or laptop,  provides visibility to management, regulators, and family members (if desired) and offers seamless and integrated documentation of care activities for both in-person and virtual care visits.

GAMES
Simple games that anyone can enjoy come preinstalled on Ethel. Play chess, solitaire or solve a sudoku from the comfort of the sofa.

RADIO
Enjoy radio from Ethel. Several radio channels are available at the touch of a button.

TEXT TO SPEECH
Text-to-speech technology is revolutionizing the way Ethel provides care and support. With the help of text-to-speech technology, written content can be converted into natural and audible speech.
WEATHER
Current weather is now shown on Ethel. With just one click, you can view the 24-hour forecast for your location.
All managed remotely by family and carers from any computer, tablet or smartphone.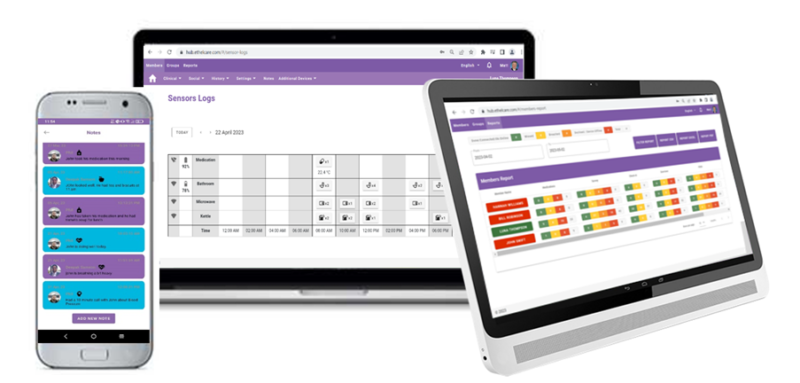 ETHEL is available to you and your loved ones for less than the price of a cappuccino per day.