Boasting an impressive range of features, Ethel offers family and carers peace of mind and assurance their loved one is OK. Unlike conventional tablets, it has everything the older person needs and nothing more. Simply select the features you need and manage them all remotely. Now your loved one is supported and has the perfect companion to aid independent living.

Always On

Large Buttons

15-18 Inch Screens

No Sign-in or Passwords
*Requires WiFi internet connection in the home.

Speak face-to-face to your loved ones at any time from any computer, smartphone or tablet. It's private, completely secure and very easy to use. Using large buttons, the older person can answer and end the call without any fuss.

Regular medication is of vital importance to the health and wellbeing of older people. Ethel can be configured to send medication reminders or perform other health care related treatments. If these actions are missed, alerts are automatically sent to family and carers.

CHECK-IN
Using the 'Check-in' button each morning, the elderly can let family and carers know everything is OK at key times of the day i.e. morning and evening. If the check-in button has not been pressed, Ethel can send an alert after a specified period of time to nominated individuals.

With one touch, loved ones can request someone gives them a call. This allows those who may be feeling isolated to make contact with others without feeling they are being too intrusive.

Ethel can automatically send free SMS and/or email alerts to carers if anything seems irregular such as missed medications or check-ins. These alerts can also be tailored for specific people who may have dedicated care responsibilities.

Email and text messages sent to Ethel appear instantly on the screen in large easy-to-read text. Using the large on-screen keyboard and buttons, the older  person can reply or write new messages at any time

Share precious memories. Photos automatically appear on screen and are stored in an album to enjoy at any time. When idol, Ethel can display these photos in a slideshow.

Anyone can upload videos of any format to Ethel from anywhere, allowing your loved ones to feel part of your life experiences. New videos are automatically displayed on the screen and stored in an album for replay at any time.

Use Ethel to browser the web, providing access to specific websites which may be of interest, such as local news and hobbies.

EVENTS
Use Ethel to set up and send reminders to your loved ones about important calendar events such as appointments, visits and family events.

Ethel offers one touch access to exercise videos specifically for older people to help with mobility and general wellbeing.

There may come a point when the older person may become unable to be part of events or special occasions away from their home, such as church services. Ethel can receive live video or audio streaming of church services, meetings and special occasions (where churches have that facility).

Q&A SURVEY
Family and carers can schedule and get simple answers to questions or short surveys. With one touch, your loved one can provide simple yes, no or maybe answers to any question.
All managed remotely by family and carers from any computer, tablet or smartphone.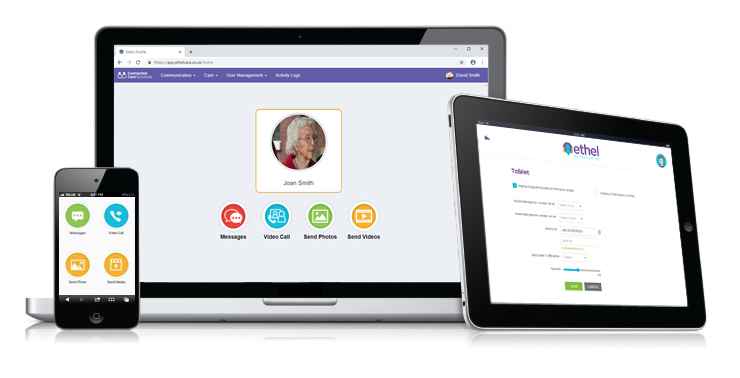 ETHEL is available to you and your loved ones for less than the price of a cappuccino per day.